Product Description
Details
How Tracker Locate works:
The Tracker Locate unit will be fitted to your vehicle in a discreet position, so that it will remain undetected to thieves. In the event that your vehicle is stolen, you will be alerted. Upon confirmation of the theft, Tracker's technology will track and locate your vehicle and the data will be used by the police in order to recover it. In many cases, cars can be recovered within 24 hours.
Tracker Locate uses a combination of three tracking methods in order to locate stolen vehicles in the UK and Europe. These include:
Very High Frequency (VHF) technology - this allows the police to locate stolen vehicles even when they are being kept underground in a car park or in a shipping container.
Global System for Mobile Communication (GSM) technology – this aids the tracking of stolen vehicles to a specific area on computer based maps.
Global Positioning System (GPS) provides the pinpoint location of the stolen vehicle.
In addition, Tracker Locate is equipped with a motion sensor which helps to detect any movement of your vehicle when it's not in use, for example without the keys in the ignition.
Customers can access information about their vehicle through a web-based application called My Tracker. Information provided includes driving and traffic reports, security alerts and route mapping. My Tracker can be accessed via a PC, laptop or Smartphone.
Main features of Tracker Locate:
Fully supported by the UK police force.
Cutting edge technology including GPS, GSM and VHF tracking along with a built-in motion sensor – this combination allows Tracker Locate to locate vehicles even when underground or in lock ups. Tracker Locate works throughout the UK and Europe (full European tracking is subject to cellular coverage).
Includes anti-jamming tamper alert and battery back-up.
Fully approved by major insurers, this in turn may lead to lower insurance premiums.
A leader in the field, Tracker Locate is the most advanced tracking system on the market.
To compare more Trackers click here for more information.
Tracker Touch App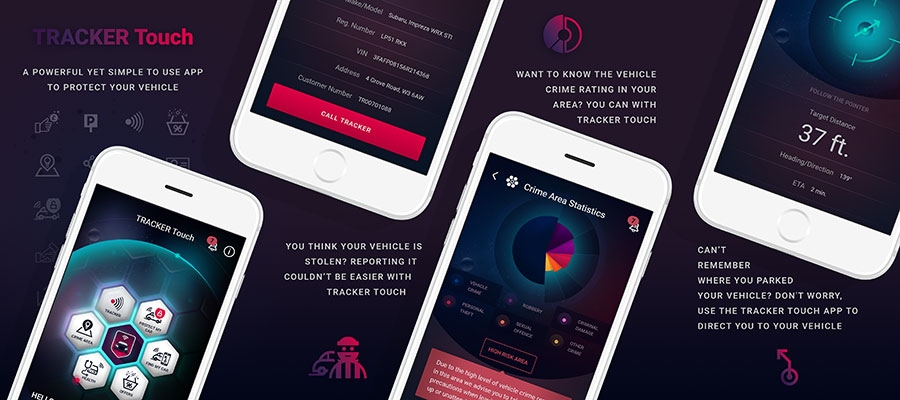 TRACKER Touch allows you to track your vehicle, manage your account and unlock some great offers and services at a touch of a button. IMPORTANTLY it's a quick and easy way to report the theft of your vehicle.
There are many great services available exclusively through TRACKER Touch Download the app and unlock all the services accessible to you FREE as a TRACKER customer.
TRACKER Touch is only available for TRACKER Locate and TRACKER Cat 5 Plus products.
Tracker Touch App Services
Report a theft
Reporting a theft couldn't be easier, all the information you need is available right here, simply click 'CALL TRACKER NOW'.
Report an accident
In case of an accident click on the 'Report An Accident' button to connect to TRACKER's appointed accident management team. They will guide you and make this a hassle free process.
My Account
View your personal and vehicle details. If your personal information needs updating you can do this in My Account.
Help and Support
Need to get in touch with TRACKER? You can find helpful contact information to make it easier to get in touch.
Social Media
Keep up with the latest news from TRACKER. Follow us on Facebook and Twitter.
Tracker Touch App Protection
Protect My Car
You can protect and unprotect your car by pressing this button – when your car is 'protected' the lock will show as GREEN and RED if this service is turned off.
Set a Geofence
When you press 'Protect My Car' this creates a geofence of 200 meters around your car from its current location. If your vehicle is moved outside the set perimeter you will be alerted by email. You can disable this feature at any time by pressing 'Unprotect my car'.
Tracker Touch App Check Health Status
My TRACKER system
Peace of mind knowing you can monitor the health of your TRACKER system at any time using TRACKER Touch.
My vehicle battery
TRACKER Touch not only allows you to monitor the health of the TRACKER system but also the health of your vehicle battery to ensure you can take any necessary action.
Tracker Touch App Find My Car
Route to my car
Have you ever parked somewhere and forgotten where you parked? Now you can use 'Route My Car' to navigate your way back by following the compass direction.
Show on a map
Use the 'Show on a map' feature to see the vehicle location on your preferred map and use directions from here to navigate back to your car.
Vehicle Crime Rating
Leaving your car parked up in an unfamiliar area? Want to know the vehicle crime rating in your area? TRACKER Touch will provide a vehicle crime rating based on your vehicle's current location.

48hr recovery guarantee means:

Subscription will be refunded if the vehicle with in 48 hours
48hr recovery guarantee means:

Subscription will be refunded if the vehicle with in 48 hours
Reviews
Product Tags